Fully Automatic Hand Push Broom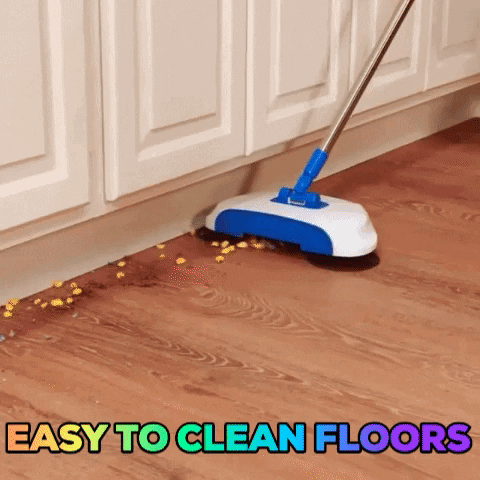 Home Cleaning Supplies - Waste Collector Sweeper
It Cleans The Floor Surface And Catches The Dust Into Automatic Pan Inside The Sweeper Machine. It's A Unique And Advance Technology Model. Very Useful For Quick Cleaning And Also For Those Who Are Having Job And Also Need To Take Care Of Home. It Is Fastest And Easiest Way To You. It Requires No Power And Energy Saving Environmental Protection. This Sweeping Machine Uses Mechanical Principles.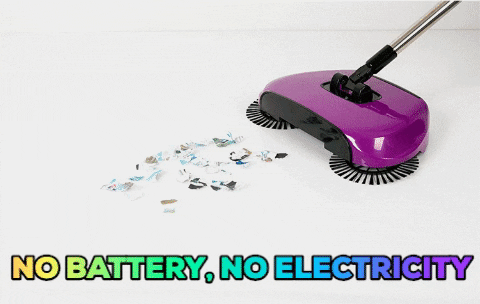 Features

: 
Wide Angle Sweep:  360-degree rotating brush with high-speed rotation to touchdown rubbish dust swept into the dustbin. it is easy to use, even for the children.
Multi-Functional Sweeper: Come with a broom, dustpan and trash bin 3 in 1.
Energy Conservation and Environmental Protection - Without power supply, So when you use, there is any noisy to make your life more cleaning and quietly.
Easy to use: The sweeping machine by using the principle of the mechanical, go ahead, as long as the hands to push and follow it, implement sweeping dust removal.
Wide Applicability: It can be used for flat floors such as plastic, wood, ceramic tile, marble, concrete blanket and so on, it is very easy to clean.
Perfect for cleaning while the baby is sleeping or while watching TV.

The convenient fold flat handle allows you to easily reach

 

under furniture & appliances!
Key Points

:
Works on All Hard Floors.
Easy to Empty Built in Dustpan.
The original

 

hatchback magnetic open, simple, durable.
Convenient! No Cords, Bags or Batteries Required!
Use high density material brush hair, not easy to remove hair, more soft.
Can

 

turn 360 degrees, the use of flexible and convenient.
Lightweight

 

- Weighs Less & Folds for

 

Easy Storage!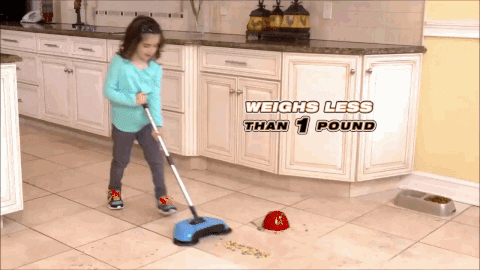 SPECIFICATION:
| | |
| --- | --- |
| Handle Length: | 107cm |
| Material: | ABS, Aluminium Alloy |
| Built-in Basin Capacity: | 0.5L |
| Net Weight: | 460g |
| Size: | 114cm x 31cm x 19.7cm |
Frequently Asked Question

: 
1. Does this broom need electricity? How to work? Does it need to install?
This broom adopts the latest advanced technique, No Electricity, No batteries. Push it forward, it can automatically collect the trash into the garbage bin. Easily to use and no need to install.
2. What kind of ground fit for this sweeper? 
This broom is fir for the hardened ground to use(wood floor, tile floor, marble floor)? Don't use it to sweep Uneven ground (Carpets, Foam Pad, etc). Not suitable for sweeping the stairs yet. 
3. Can the broom sweep all the places? Does it have a dead corner? 
Yes, it has a dead corner, the broom can clean 98% places except for the narrow places which need to? Every cleaner has its dead corner.
4.Can this broom sweep all kinds of garbage?
This broom is designed for the family. Mainly aimed for the hair, peanut shell, melon seeds shell, scraps of paper, rice, granular garbage. All of these can be cleaned up. Like Mineral water bottle cannot be sweep into the garbage bin. And this is not a vacuum cleaner. Also cannot sweep the tiny dust.
5. Is this broom too noisy when it is working? 
This broom doesn't has an engine. Only have the sound of roller rolling on the ground. If you push slowly, it will be almost silent. 
6. This broom can be twined hair? 
The sweeper may be entwined by the long hair. But don't worry. Pull the hair out of the brush by hands.